NEW FEATURE: Goals
CrossFit Irondale's WOD tomorrow is one of my top 5: The CrossFit Total
I like this WOD because it is a great way to see the strength you've acquired over time.
WOD-Minder already offers an easy way to see your history on this benchmark wod, but how about a way to set your goal for the next one?
That's the purpose of this new feature. Under your CrossFit Summary, there is a new tab: Goals.
In it, I've created two reports titled "CrossFit Total" and "New CrossFit Total"
These reports sum your best maxes related to the wod and tell you what you should get or beat.
After all, you will deadlift more often than you will perform this wod.
It makes sense to look at the latest and greatest version of you before attempting it.
Now you can; in just two clicks.
Simplifying CrossFit Journaling even more.
It's what I do.
--Ray
New Button: Today's WOD
Your trainers stress efficiency. It's great when you get the bar from point A to point B, but doing it in the shortest route possible is best.
I take the same philosophy with WOD-Minder. We've come a long way in the past year but efficiency is key!
That's why this week I am rolling out a new button: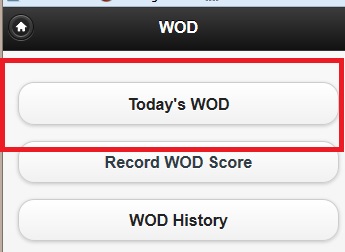 You will find it in the WOD menu.
Clicking this button takes you straight to the daily WOD for your box.
It's just one less thing to think about; less clicks means faster saves means happier users (i.e. you).
--Ray
NEW Feature: Monthly PR's
You can't know where you're going until you know where you've been.
--Anonymous
There is a whiteboard at CrossFit Irondale titled "Monthly PRs". CrossFitters love to celebrate accomplishments and, honestly, why wouldn't we?
Those small--and sometimes large--bumps in lifts give us the baseline for our next goal.
In fact, there is no personal record too small to ignore. Thus, we should always log our lifts!!!
As WOD-Minder users, you already know how to do this. To date, we have 1,385 maxes saved in our names. (That's awesome, by the way! Thank-you!)
It's so simple, right? I hope so at least. I always strive for a simple yet powerful interface.
So, a couple of weeks ago (right before the end of September), one of my trainers says to me
Ray, I know you got some PRs. Put 'em up there on the board!
I knew he was right but my short-term memory stinks. I chalk that up to a full-time job, part-time work, three kids and a start-up I'm trying to get off the ground.
Anyway, I didn't let it bother me. I knew I had a tool to retrieve the info.
I opened WOD-Minder, went to Max Snapshot and jotted down every PR I could find for the month of Sept. 2013: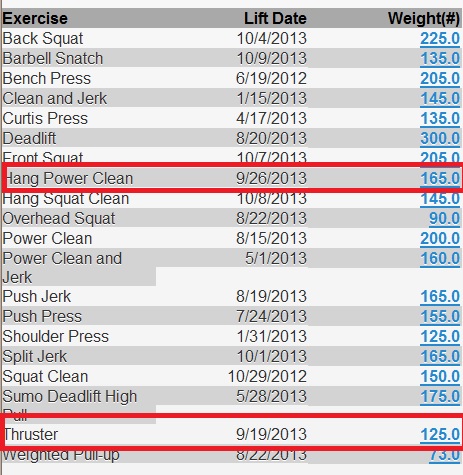 I LOVE the Max Snapshot! It's such a great way to see overall accomplishments.
For this task though, I was not satisfied.
I knew a better feature could be designed to highlight my personal records.
After reflecting on what could give me and--my faithful users--true value, I came up with WOD-Minder's newest feature:
Monthly PR's
The concept is simple: provide a screen that shows you PR's by both year and month.
It's an organized way to see your most recent accomplishments as well as providing a pathway to past accomplishments.
Let's take a look at the feature. Navigate there by clicking Max/Monthly PR's: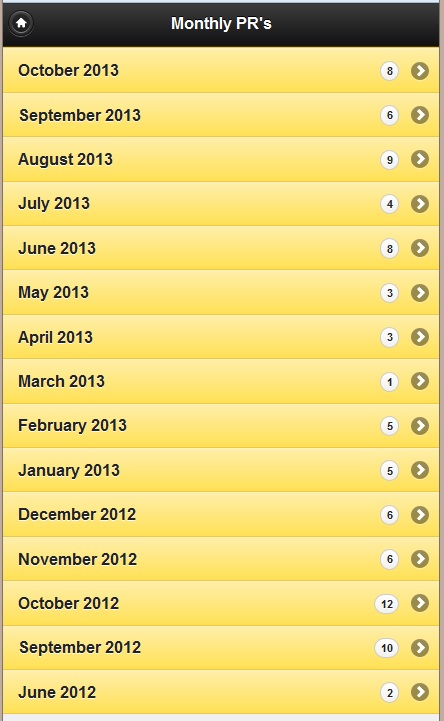 The above screen shows links to the Month and Year in which you had a PR (newest to oldest). The number in the circle to the right tells you how many PRs you had that month.
As you can see, October 2013 looks great for me. We are only 11 days in and I already have 8 PRs. Clicking the October 2013 link shows this screen: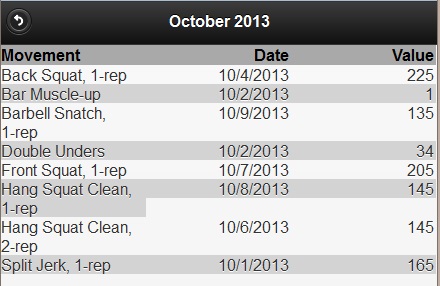 A grid of movements, dates and values. Now when it comes time to write PR's on the board, I am ready. In fact, if we all did this at CrossFit Irondale, then a bigger board will be required!
Using WOD-Minder to create and achieve short-term goals
When it is obvious that the goals cannot be reached, don't adjust the goals, adjust the action steps.
--Confucius
When I designed WOD-Minder, the biggest feature I wanted to bring to my users was the ability to have WOD and Max history easily available at their fingertips.
This serves a number of purposes but--most important--is the ability to set goals. My methodology behind CrossFit goal-setting is simple. Look at your past score and then beat it.
Last week, my box programmed a benchmark wod and, with the help of WOD-Minder, I was able to set (and reach) a short-term goal with ease.
I thought I should share my process as some food-for-thought the next time you are looking for a convenient way to set your goals.
NOTE: The benchmark wods are always in WOD-Minder and whether you save one on your own or do one with your box, WOD-Minder is aware of your complete benchmark wod history.
So, last Monday was one of my favorites: Tabata This.
My WOD scores are never fresh on my mind so, even though I knew I had saved Tabata This in the past, I could not remember my scores. A few minutes before the WOD, I pull my phone out, load up WOD-Minder and click the following:
WOD
WOD History
Benchmark WODS
Type "tabat" (this filters the Benchmark WODresults)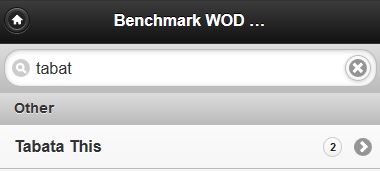 The screen above takes me to my Tabata This History; note the number two on the right. This tells me I've saved Tabata This twice. Now I click the Tabata This link and I can see my history: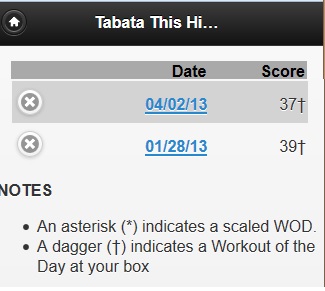 Notice my score dropped the second time.
I did not want that to happen again.
So I want to beat my best score. How does one do that? After all, as you know, Tabata This has several movements and that score is the sum of your lowest rep for each round.
What do I do now? For me, since I keep notes in WOD-Minder, it was easy. I clicked on the blue links of each date and looked at my notes: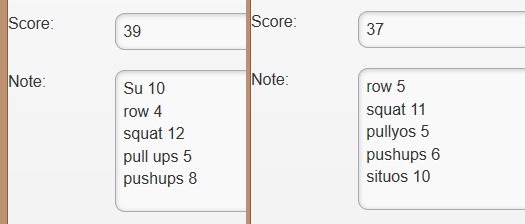 Now I can see how the scores were tallied.
This is where the hand-held whiteboard becomes helpful. I write down each movement and put my best rep-count next to it: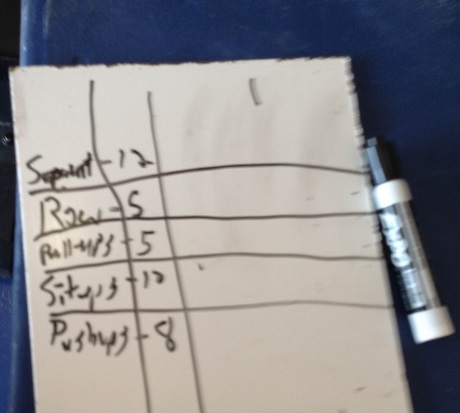 As long as I can do ONE better than each of these reps, then I will have a sucessful WOD. There we go; short-term goals set in just a few minutes.
End Result: 44!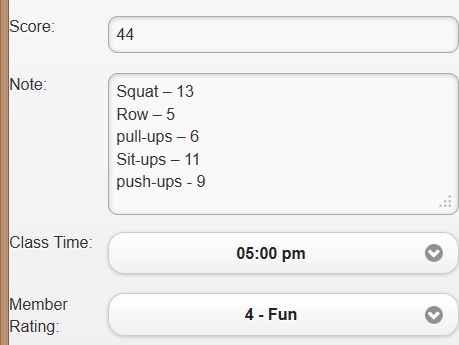 There is no athlete I compete with more than myself and to beat an old score like that feels incredibly positive.
And now I have a new record to beat for next time.
--Ray
5,000!!!!
BAM!
Today we reached the 5,000 wod milestone.
That is a tremendous accomplishment and I am both honored and appreciative to those of you who embrace WOD-Minder as your CrossFit logging journal!
Winners will be announced tonight!
--Ray
TIP: Easily find WODs you've done before
Your CrossFit gym is both busy and creative.
They come up with the great WoDs you perform everyday.
Sometimes WoDs are so great, they are destined to be repeated.
Wouldn't you love to compare past scores with current ones to see how well you've done over time?
With WOD-Minder, you can; and it's very easy.
Take today's wod by CrossFit Trussville for example.
To view each WoD of "Sweet Jamma", do the following:
Click WOD
Record WOD Score
From My Box
Type "Sweet"
You will see that this WOD has been repeated 3 times and you can easily see your score for each one.
===THE 5,000 WOD GIVEAWAY===
We currently have 4,300 wods saved by you, our faithful users!
That's incredible! Our eyes are now set on that 5,000 WOD benchmark and we want to motivate you. We have teamed up with the makers of WOD Armor for ***FREE*** apparel! All you have to do is save one wod in WOD-Minder between now and the 5,000 WOD benchmark. When we reach 5,000, we will draw two winners (one male and one female) and each one will receive a free WOD Armor T-Shirt. We want WOD-Minder to be your trusted CrossFit app and we want you to look good while you workout.
New Feature: Find WoD by movement
You're so motivated and we love that about you!
You WoD with your gym five times a week but by the time "Open Gym" rolls along, you're not sure what to do.
Yeah, you can work on a single movement, but we know CrossFit's Benchmark Workouts suit your tastes.
There are 130 to choose from. Do you have them memorized? No problem if not; we're here for you!
Next time you're ready to perform a benchmark workout, open WoD-Minder and click
WOD
Record WOD Score
Benchmark WODs
Pick by Movement
You will be given a selection of movements to choose from.
Select the one(s) you want to work on and the available benchmark WoDs will be displayed for you.
For instance, The Dirty South Games released their first WoD this week. RX movements include Burpees, Dead Lifts and Running with a Medicine Ball.
All of these are available in "Pick by Movement".
When you're ready to get acquainted with a new girl or honor a new hero, let us help you find the perfect WoD.
P.S. Any issues can be reported to support@wod-minder.com
K.I.S.S. (Keep It Simple, Silly)
WOD-Minder strives to simplify. You can always save a benchmark WoD on your own. When your gym's WoD is a benchmark WOD, you only have to save it once. Notice the Nancy history in the attached image. This user performed Nancy on their own on July 16th and with their gym on February 6th. The dagger (†) indicator tells you the workout was with your gym. Also, you can click on the date to view or edit the WoD.
We backup so you don't have too...
The fact you take the time to use WOD-Minder as your daily journaling app is very important to us. That's why WOD-Minder backs up and securely stores your data daily. In case of a server meltdown, no worries. We'll get your account back online in no time.
NEW Feature : WOD Search
As you save those daily WoDs, there may come a time when you want to go back and see how often you've performed a movement. For your convenience, we have added a new Search functionality. In WoD-Minder, click 1. WOD 2. WOD History 3. Search Enter any movement you like (e.g. 'Deadlift') and click 'Search' You will be presented with a list of WoDs from your gym that you have accomplished. Click on any of those WoDS to view or edit them. NOTE: If you *really* want to see how much your trainers love you, search "Burpee"
1,000 and counting...
We broke the thousand-mark for saved WODs today. Thanks to all of you for your feedback and continued use; each WOD saved helps make the product stronger!
New Feature: Weight Journal
In our efforts to create a complete Crossfit solution, today we announce a new feature: Weight Journal You now have the ability to log your body's progress alongside your WODs and Maxes. Weight, BMI, Body Fat %, a daily note and, if desired, a picture may be stored for that day.
New Feature: Box Rank
Box Rank added as a viewable list when viewing/saving max. This allows you to compare your max with others'.